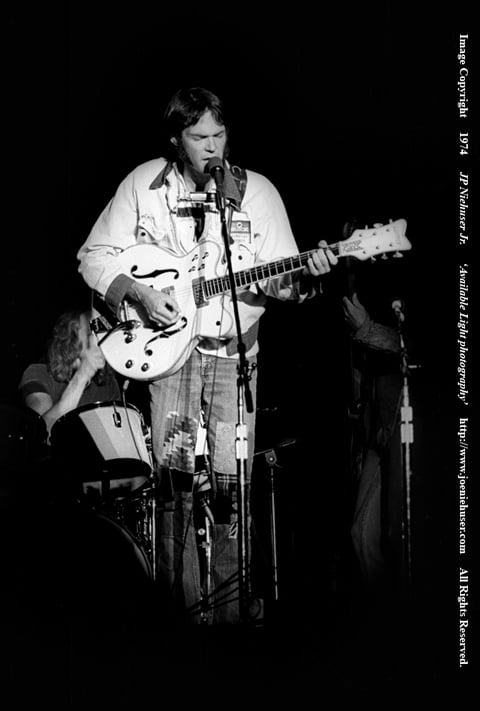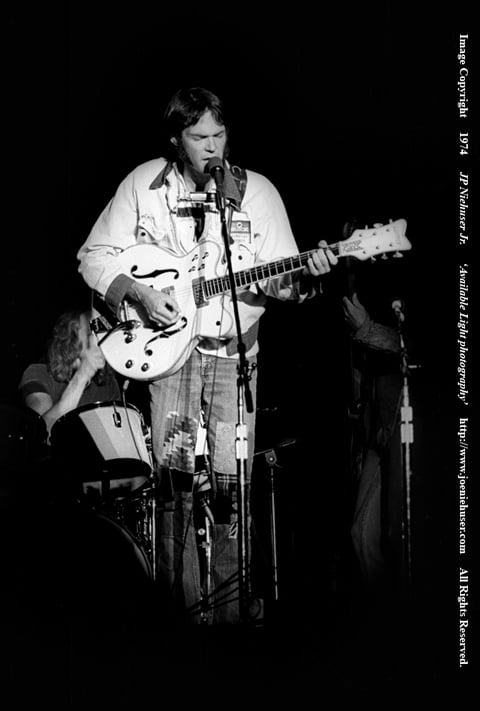 Original 1974 Neil Young Limited Edition Fine Art Print
by J.P. Niehuser Jr.
$600.00
Unique, one-of-a-kind, Limited Edition Fine Art print of Neil Young, legendary folk rock singer/songwriter. Photo was taken during first show of CSNY's '74 Reunion Tour was taken July 11, 1974, at Seattle Expo Coliseum, Seattle, Washington.
Photographer/Artist: J.P. Niehuser Jr. • Montrose, CO
Type: image is printed on Premium Archival paper and professionally matted. Print comes with Certificate of Authenticity and is hand signed/numbered by J.P. Niehuser Jr.
Edition: Limited | Only 75 prints are available to the public | Extremely Rare
Dimensions: 16x20 • 11x14 & 20x24 sizes also available. Email for pricing.
*Insurance included
**Please allow 2-4 weeks for delivery
NEIL YOUNG
Neil Percival Young, (born November 12, 1945), is a Canadian singer-songwriter, musician, producer, director and screenwriter. Young began performing in a group covering Shadows instrumentals in Canada in 1960. In 1966, after a brief stint with the Rick James-fronted Mynah Birds, he moved to Los Angeles, where he formed Buffalo Springfield with Stephen Stills, Richie Furay and others. Young had released two albums by the time he joined Crosby, Stills & Nash in 1969. From his early solo albums and those with his backing band Crazy Horse, Young has recorded a steady stream of studio and live albums, sometimes warring with his recording company along the way.
Young's often-distorted electric guitar work, deeply personal lyrics and signature tenor singing voice transcend his long career. Young also plays piano and harmonica on many albums which frequently combine folk, rock, blues and other musical styles. Famed for emotional outbursts and ripping up live set lists, Young often plays acoustic versions of songs in one show and electric versions in others. His gritty guitar work, especially with Crazy Horse, earned him the nickname "Godfather of Grunge" and led to his 1995 album Mirror Ball with Pearl Jam. More recently Young has been backed by Promise of the Real.
Young directed (or co-directed) films using the pseudonym Bernard Shakey, including Journey Through the Past (1973), Rust Never Sleeps (1979), Human Highway (1982), Greendale (2003), and CSNY/Déjà Vu (2008). He also contributed to the soundtracks of the films Philadelphia (1993) and Dead Man (1995).
Young has received several Grammy and Juno awards. The Rock & Roll Hall of Fame inducted him twice: as a solo artist in 1995 and in 1997 as a member of Buffalo Springfield. In 2000, Rolling Stone named Young the 34th greatest rock 'n roll artist.
He has lived in California since the 1960s but retains Canadian citizenship. He was awarded the Order of Manitoba on July 14, 2006, and was made an Officer of the Order of Canada on December 30, 2009.