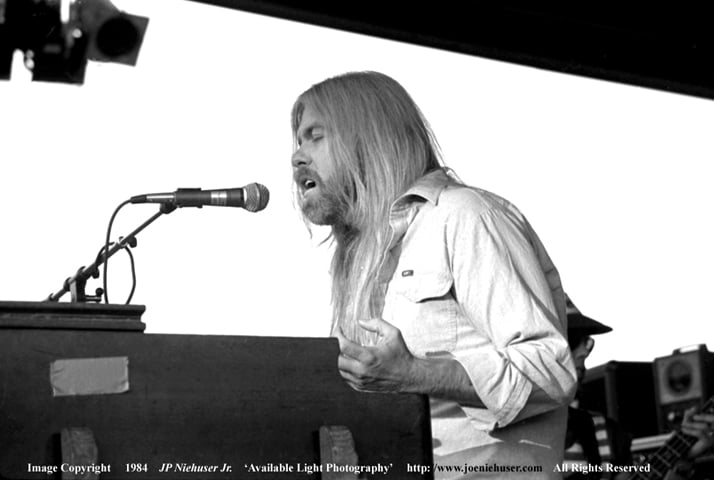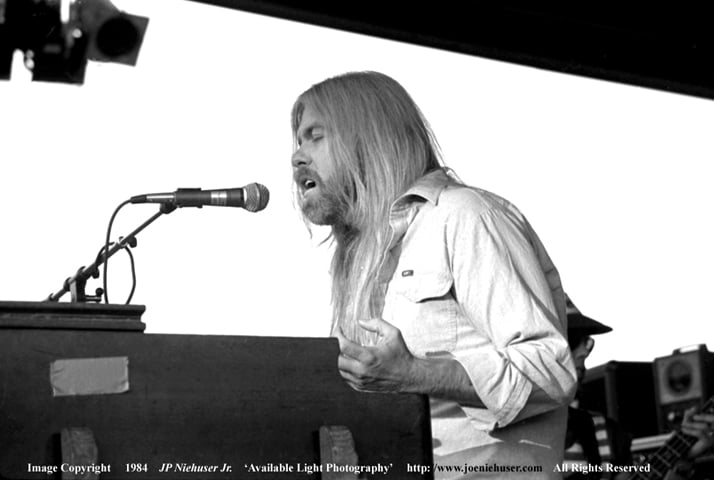 Original 1984 Gregg Allman Limited Edition Fine Art Print
by J.P. Niehuser Jr.
$350.00
Unique, one-of-a-kind, Limited Edition Fine Art print of Gregg Allman (Allman Brothers Band • Gregg Allman Band), a key mainstay of the American blues, rock, and southern rock music worlds for over five decades. Photo was taken August 18, 1984, while performing at "Vancouver Celebration '84" at the Clark County Fairgrounds in Vancouver, Washington.
Photographer/Artist: J.P. Niehuser Jr. • Montrose, CO
Type: image is printed on Premium Archival paper and professionally matted. Print comes with Certificate of Authenticity and is hand signed/numbered by J.P. Niehuser Jr.
Edition: Limited | Only 100 prints are available to the public | Extremely Rare
Dimensions: 11x14
16x20 (Edition of 75) & 20x24 (Edition of 50) are available for additional charge • Email if interested in larger size print
*Insurance included
**Please allow 2-4 weeks for delivery
GREGG ALLMAN
Gregory LeNoir "Gregg" Allman (December 8, 1947-May 27, 2017) was an American musician, singer and songwriter. He was best known for performing in the Allman Brothers Band. He was born and spent much of his childhood in Nashville, Tennessee, before relocating to Daytona Beach, Florida. He and his brother, Duane Allman, developed an interest in music in their teens, and began performing in the Allman Joys in the mid-1960s. In 1967, they relocated to Los Angeles and were renamed the Hour Glass, releasing two albums for Liberty Records. In 1969, he and Duane regrouped to form the Allman Brothers Band, which settled in Macon, Georgia.
The Allman Brothers Band began to reach mainstream success by the early 1970s, with their live album At Fillmore East representing a commercial and artistic breakthrough. Shortly thereafter, Duane was killed in a motorcycle crash in 1971. The following year, the band's bassist, Berry Oakley was also killed in a motorcycle accident very close to the location of Duane's wreck. Their 1973 album Brothers and Sisters became their biggest hit, and Allman pursued a solo career afterward, releasing his debut album, Laid Back the same year. Internal turmoil took over the group, leading to a 1975 breakup. Allman was married to pop star Cher for the rest of the decade, while he continued his solo career with the Gregg Allman Band. After a brief Allman Brothers reunion and a decade of little activity, he reached an unexpected peak with the hit single "I'm No Angel" in 1987. After two more solo albums, the Allman Brothers reformed for a third and final time in 1989, and continued performing until 2014. He released his most recent solo album, Low Country Blues, in 2011, and his next, Southern Blood, is set for release in 2017.
For his work in music, Allman received numerous awards including several Grammys; he has been inducted into the Rock and Roll Hall of Fame and the Georgia Music Hall of Fame. His distinctive voice placed him in 70th place in the Rolling Stone list of the "100 Greatest Singers of All Time". Allman released an autobiography, My Cross to Bear, in 2012.